Engineered for Durability & Comfort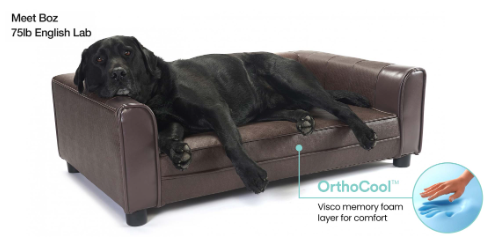 At PetTherapeutics™, we strive to create products that are designed to improve the health and wellbeing of all pets.
Inspired by our family's love for our own black Labs, Boz, Skylar, and Remy, we built a collection of orthopedic furniture intended to provide a safe and comfortable place for pets to sleep when staying at a pet hotel or resort.
Made with durable, commercial-grade materials and anxiety-reducing design features, the ProEdge™ Orthopedic Pet Sofa provides a best-in-class experience for pet hotel owners and parents alike.
WHAT MAKES US
DIFFERENT FROM OTHERS
The first pet sofa developed with input from pet hotel and resort owners, designed for commercial use.
We address the need to reduce anxiety in pets while they are staying at a pet hotel or resort, providing them with a safe and secure place to sleep away from home.

We place focus on creating heavy-duty, water-resistant materials to build sturdy, durable and comfortable sofas, offering a clean, cozy spot to feel settled in while staying at a pet hotel or resort.



Engineered for durability & comfort

Orthopedic memory foam

Heavy duty vegan leather

Easy to clean

Water resistant
Collaboration with Professionals
Developed with input from pet hotel and resort owners

Designed specifically for commercial use

Implemented anxiety-reducing features into our designs
Testing for material and durability

Developing chew-proof and tear-resistant fabrics

Offering new color and style options to reflect design trends

Producing commercial grade products that hold up well under high use