At PetTherapeutics™, we believe that every pet deserves the best in life. Our commitment to improving the health and wellbeing of all pets is deeply personal, inspired by our family's unending love for our black Labs, Boz, Skylar, and Remy.
Our story began with a simple yet vital question: how can we ensure our dogs are not just accommodated, but truly comfortable and cared for, even when they're away from home? This question propelled us to create a collection of orthopedic furniture that would provide pets with the same level of comfort and luxury that their families enjoy.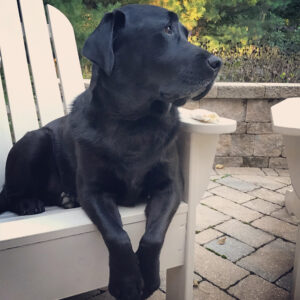 Each PetTherapeutics™ product is crafted with careful attention to detail, combining durable, commercial-grade materials with anxiety-reducing design features. Our offerings aim to provide a soothing sanctuary for pets, whether they're joining their families on vacation or enjoying a stay in a pet hotel or resort.
But our vision extends beyond just pet comfort. With our elegant designs and premium quality, we provide a best-in-class experience that delights pet-friendly business owners and pet parents alike. We believe in a world where luxury and therapeutic care go hand-in-hand, enhancing the quality of life for our beloved pets.
Embedded in our brand's DNA are the values of quality, luxury, and wellbeing. At PetTherapeutics™, we're more than just a brand. We're a family of pet lovers, dedicated to providing the best for your pets, because we believe they're not just pets – they're family.
 Join us in our journey to redefine pet comfort, luxury, and wellbeing.
As pioneers in the pet furniture industry, we've taken a unique approach to product development that truly sets us apart. PetTherapeutics™ boasts the distinction of being the first to craft pet sofas with direct insights from pet hotel and resort owners, designed expressly for commercial use.
Recognizing the necessity of reducing anxiety in our pets during their stay at a pet hotel or resort, we've gone above and beyond to create a haven of safety and comfort for them. Our products serve as more than just sleeping spots; they become secure, familiar havens where pets can feel at ease even when away from home.
But our commitment to pet comfort doesn't stop at the design; it extends to every material we choose. At PetTherapeutics™, we meticulously select heavy-duty, water-proof fabrics to craft our sturdy, durable, and remarkably comfortable sofas. Our focus on durability means that each sofa stands up to the test of time, while our emphasis on comfort ensures your pet feels snug, relaxed, and right at home, no matter where they may be.
In short, PetTherapeutics™ doesn't just offer pet furniture – we offer a sanctuary for your pets, blending resilience, comfort, and luxury in a manner unrivaled in the industry. Our commitment to this unique blend of qualities is what truly sets us apart.
QUALITY
At PetTherapeutics™, quality isn't just a characteristic - it's the very foundation upon which we build our products. Every stitch, every material, and every design decision is guided by our unwavering commitment to delivering the best. From our commercial-grade materials to our detailed finishing touches, we ensure that our products are not only aesthetically pleasing but also durable and long-lasting. We believe our pets deserve nothing less than the highest standard of quality, and we're dedicated to providing just that.
COMFORT
Comfort is at the heart of everything we do at PetTherapeutics™. We believe that our pets deserve to be as comfortable as we are, which is why we carefully engineer our products with their unique needs in mind. Our orthopedic furniture is designed to cradle your pet in soft, supportive luxury, reducing anxiety and encouraging deep, restful sleep. Whether they're curling up for a nap at home or settling down for the night in a pet resort, we ensure they have a cozy haven they can call their own.
INNOVATION
Innovation drives us forward at PetTherapeutics™. We continually seek to push the boundaries of what's possible in pet furniture, fusing form and function in unprecedented ways. Our innovative approach extends to the materials we use, the design features we incorporate, and the processes we employ. We combine state-of-the-art technology with our understanding of pet needs to create products that are not just novel but truly beneficial for our much-loved pets. This unwavering dedication to innovation allows us to consistently offer products that are steps ahead of the competition.
LUXURY
Luxury is not just about opulence; it's about experiencing the best that life has to offer. At PetTherapeutics™, we bring this principle to our pet products. We aim to provide a lavish experience that caters to the tastes of discerning pet parents and their beloved pets. Our products radiate sophistication and elegance, with an attention to detail that befits our high-end positioning. We believe that luxury and pet comfort should go hand-in-hand, and we make it our mission to bring a touch of luxury to pets and their families alike.
WELLBEING
The wellbeing of pets is the guiding principle that underpins our work at PetTherapeutics™. We believe that physical comfort significantly contributes to overall pet health and wellness. That's why our therapeutic furniture is designed to not only be comfortable but also to support pet health. From encouraging better sleep to easing joint pain, our products aim to enhance pets' quality of life. We're committed to promoting pet wellbeing and health, one luxury therapeutic bed and comfort cushion at a time.