Hygiene and cleanliness are paramount for dog hotels! Dog hotels must maintain a clean and sanitary environment to prevent the spread of illness and disease and to ensure the well-being of all dogs. Having dog beds that are easy-to-clean, durable, and comfortable plays a necessary role in achieving this goal. Explore the key factors to consider when selecting dog beds for use in dog hotels.
What Makes Dog Beds Easy-to-Clean?
At dog hotels and other boarding facilities, dog beds need to be quickly sanitized between guests, in order to reduce the risk of cross-contamination and the spread of germs. To do this as efficiently as possible, it's important to have a dog bed that is easy-to-clean. 
The type of material used in dog beds makes a big difference in whether they are easy-to-clean. Waterproof material is a great choice, so when the beds are sprayed and washed with water, soap or sanitizer, there is no concern about the inside foam components and wood frame getting wet. This can also protect the inner cushion from most spills, accidents and moisture, making the dog beds easy to wipe clean with a damp cloth or sponge.
The Pet Therapeutics™ ProEdge™ dog beds have been designed and manufactured with waterproof material for commercial use, with pet hotels and boarding in mind. The bottom of the bed is covered in waterproof material, unlike most average dog beds which have lightweight and porous material, including non-woven fabric stapled onto the bottom of the frame. While the PetTherapeutics™ ProEdge™ dog beds are easy to clean, they also are comfortable! Vegan leather is specially milled for Pet Therapeutics and is extremely strong and durable as well as good-looking and comfortable to the touch.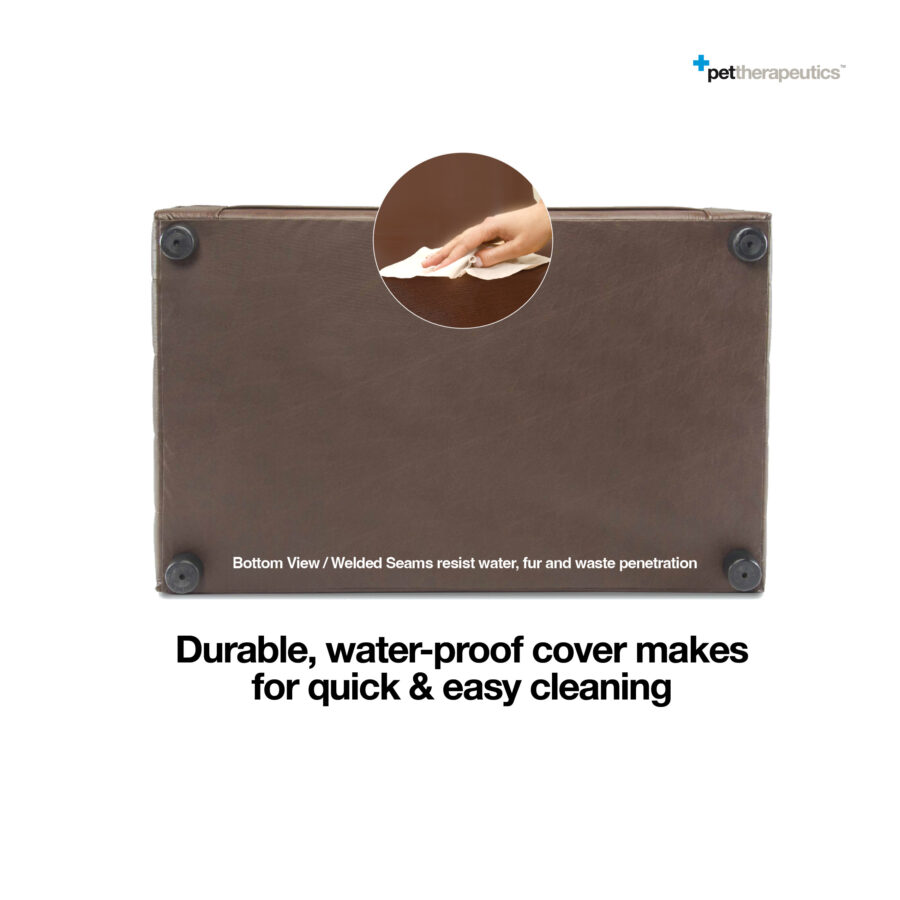 What Makes Dog Beds Durable?
Durability in commercial pet beds used in dog hotels is another must! Since dog hotels experience heavy use and a frequent turnover of guests, they will need to be able to withstand the wear and tear of daily use. Plus, durability will inhibit the occasional frustrated or anxious dog, who may be prone to destructive behavior, preventing the need for frequent replacements. When looking for a durable dog bed, take a look at components such as the frame, cushion material, and covering.
A solid wood frame construction forms the base of all the ProEdge dog beds. The thick orthopedic memory foam layer is supported by a thicker density foam layer. The heavy duty, waterproof vinyl covering creates an overall Durable-Comfort™ with the sturdiness of a high-quality piece of furniture. Having durable dog beds in pet boarding not only saves money in the long run but also ensures that guests have a comfortable and secure place to rest and a best-in-class experience to post in reviews.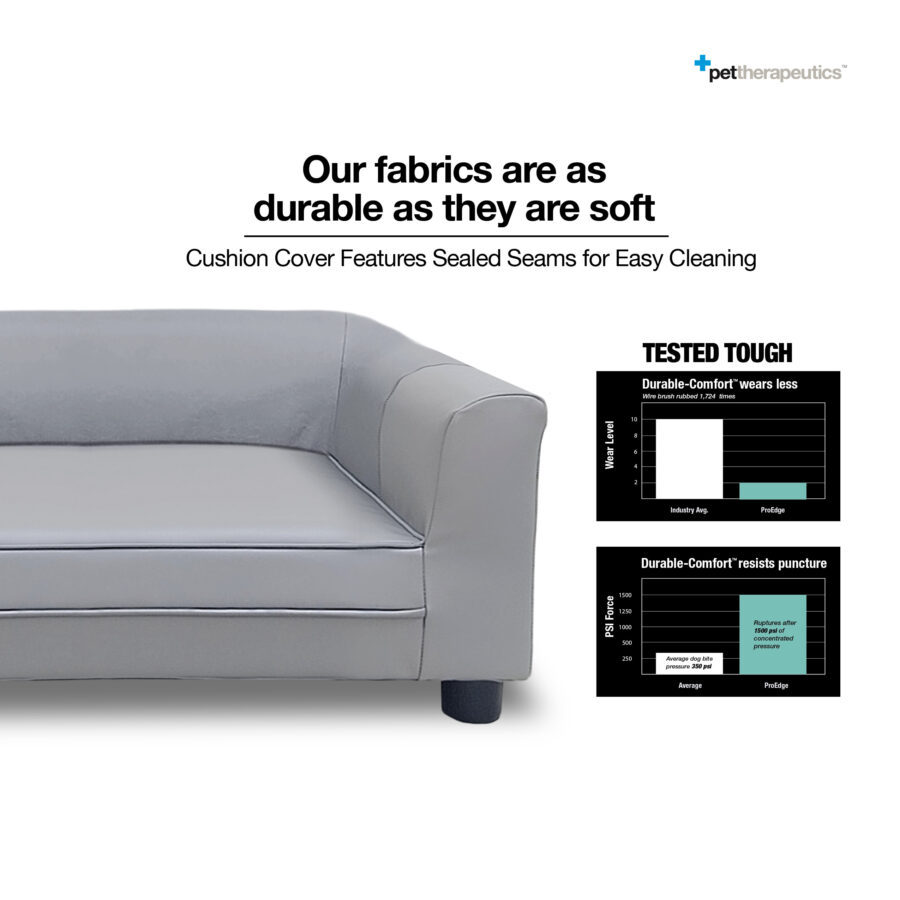 The Benefits of Durable, Easy-to-Clean Dog Beds for Pet Hotels
The benefits of using durable, easy-to-clean dog beds in pet boarding facilities and day care businesses are numerous.
Reduce risk of illness or infection
Maintaining a clean and sanitary environment by using dog beds made from materials which are resistant to moisture, stains, odors, and bacteria reduce the risk of the spread of illness or infection from one dog guest to the next. The exceptional feature of cleanability of the ProEdge beds also makes it easier to remove the allergens from pet dander, fur and dust mites, which is beneficial for sensitive dogs and staff as well. 
Additionally, keeping the odor factor to a minimum is often a challenge in pet hotels and boarding. Implementing a regular maintenance schedule of washing and sanitizing dog beds can help reduce odor. Using durable, easy-to-clean dog beds makes this simple to do and results in a more hygienic and pleasant atmosphere.
Many pet owners are seeking the best for their pets when it comes to accommodations away from home. Having a clean facility is a must for pet parents. But knowing their pet is comfortable is also important! The appeal of a pet hotel with such fine quality beds for their dogs is extremely attractive and puts the facility in a category of brands which prioritizes the well-being, comfort and security of the dogs in their care.
The investment in durable, easy-to-clean dog beds is a worthwhile one for any pet hotels hoping to build a strong reputation. They offer a first-rate, long-lasting product which promotes a comfortable, secure and hygienic experience to enhance customer satisfaction! Contact Pet Therapeutics™ to see how we can help you with your commercial dog bed needs!